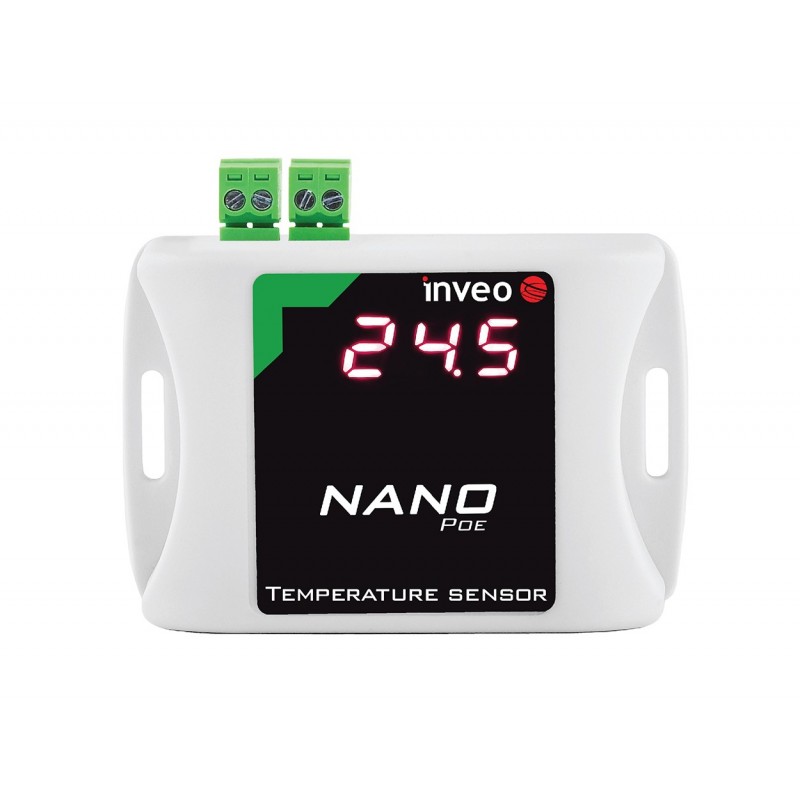  
Nano temperature sensor PoE
IP thermometer used for reading of the temperature sensor 1-Wire (DS18B20) by web.
Supported protocols:
 HTTP (GET)
 SNMP (TRAP)
 MODBUS TCP
 TCP (available protocol)
Power supply:
PoE compatible with IEEE 802 3af
The device enables to read temperature remotely from the 1-Wire bus (DS18B20 sensor) via Ethernet. The temperature can be controlled through the website, network protocols or appropriate software.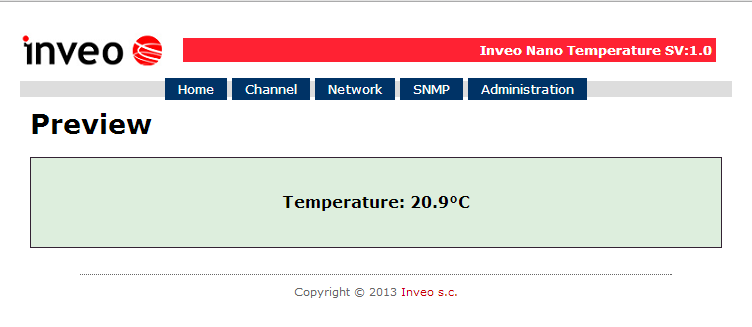 Technical data
Power supply
PoE IEEE 802.3af
DC: 10-24VDC (screw terminals 3,5mm),
Power consumption: max 1,5W.
Inputs
Number of inputs: 1
Input type: 1-wire bus
Sensor type: DS18B20
Measured temperature range: from -55°C to 120°C
Ports
Communication
embedded web server,
Windows and Linux command line programs,
HTTP,
Modbus TCP,
SNMP,
own application, via TCP protocol (shared),
MQTT
Nano and Lantick series devices can cooperate with each other without a computer. The modules use M2M connection. When appropriate settings are used, it will send information to the relay device about exceeding the temperature, which will trigger the alarm. An example is presented in the video below.
The set includes:
Nano Temperature Sensor PoE device
Patchcord 0.5m
Temperature sensor DS18B20 (1m)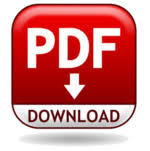 User manual Nano Temperature Sensor
Data sheet
Power

PoE 802.3af
Screw connector 12-24VDC

Communication

LAN

Communication protocols

HTTP GET
Modbus TCP
SNMP
TCP - producer API