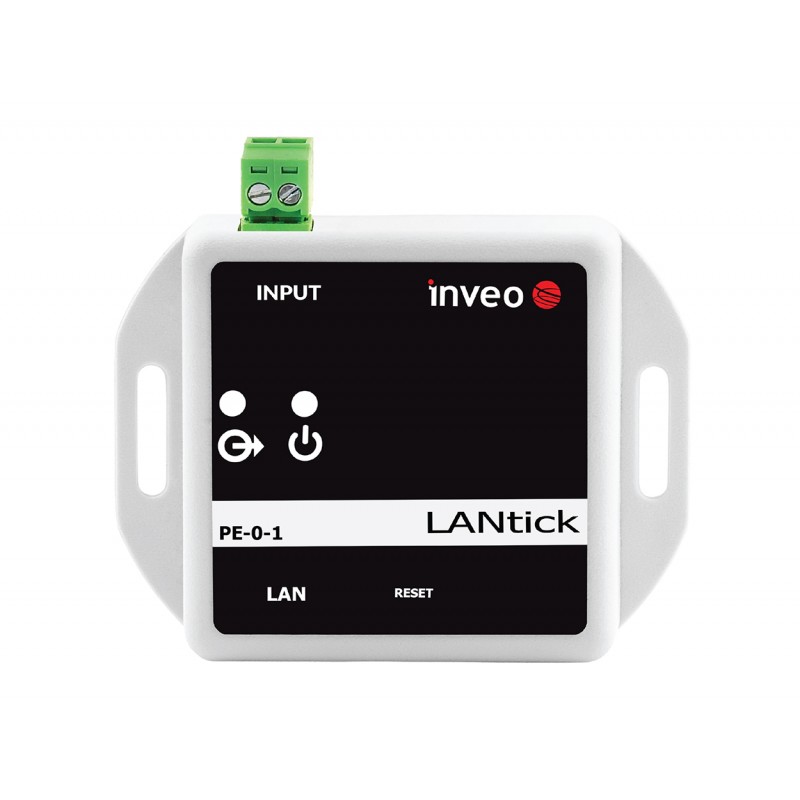  
LanTick Pro PE-0-1
LanTick PE-0-1 - a small-sized module with a dry contact input, its status is available via the LAN network.
The device enables to control a LAN relay (Lantick with outputs or Nano Out) as a remote relay extension.
Input pulses counting function.
Various LAN communication protocols supported.
The module has one dry contact input, which enables device control over the LAN.
Technical data

Power supply
Passive PoE 10V – 24V DC, PoE injector included
Power consumption: max 1.5W
Ports
LAN – Ethernet 1x10Mbps, RJ45
RS485 - optional
Communication protocols
Modbus TCP
KNX/IP
HTTP GET
TCP
UDP
SNMP
Inveo Dashboard service
Embedded web server
Control from the Windows command line
Control from the Linux console
Inputs
Number of inputs: 1
Input type: dry contact, NO
Maximum counter value: 4 294 967 296
Maximum input frequency: 1000Hz
Additionally
Visualization of input and output states on own graphics
Work in M2M mode
Input simulation mode
Password protection for the administrator and user
Data sheet
Number of digital inputs

1

Power

Passive PoE 12-24VDC
Screw connector 12-24VDC

Communication

LAN

Communication protocols

HTTP GET
KNX/IP
Modbus TCP
SNMP
TCP - producer API
command line program
device with Android system
You might also like